TEMPUR LUXEBREEZE FIRM
Regular price
Sale price
$4,999.00
Unit price
per
Sale
Sold out
Description
PRODUCT INFORMATION
The TEMPUR-LUXEbreeze Firm mattress has a 4-level system of cutting-edge cooling materials that work together from cover to core to keep you cool all night long. The enhanced zip-off cover provides double the cool-to-touch comfort when you lie down and exclusive PureCool+™ Phase Change Material absorbs excess heat while you fall asleep. TEMPUR-CM+™ combined with Ventilated TEMPUR-APR® provide next-level airflow and maximum pressure relief throughout the night.
BEHIND THE SEAMS
ALL-NIGHT COMFORT: The Tempurpedic-LUXEbreeze feels 8 degrees cooler throughout the night while delivering maximum pressure-relieving power – so you"ll sleep deeper, cooler, longer.*
COOLER WHEN YOU FALL ASLEEP: PureCool+ Phase Change Material absorbs excess heat so you feel cooler while you fall asleep.
COOLER ALL NIGHT LONG: TEMPUR-CM+ Material is designed for maximum airflow, and ventilated TEMPUR-APR® material uses built-in ventilation channels to enhance airflow – creating an even cooler sleeping environment throughout the night.
SMARTCLIMATE® MAX DUAL COVER SYSTEM: Offers next-generation technology with a zip-off, cool-to-touch cover and high-stretch performance panel enhances the pressure-relieving power of your mattress for convenience and comfort.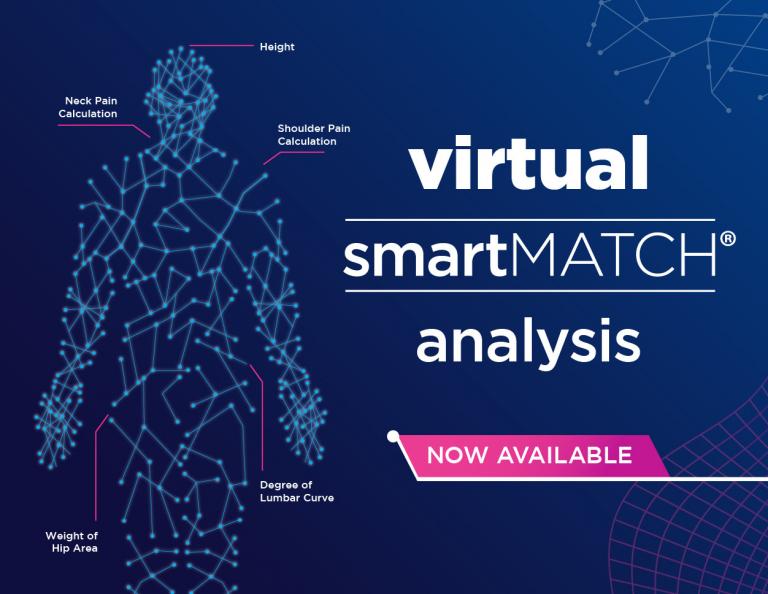 Find the Mattress Right for YOU
Don't guess which is right for you. Get it right the first time. Take our virtual smartMATCH quiz to find mattress recommendations designed for your body's unique needs.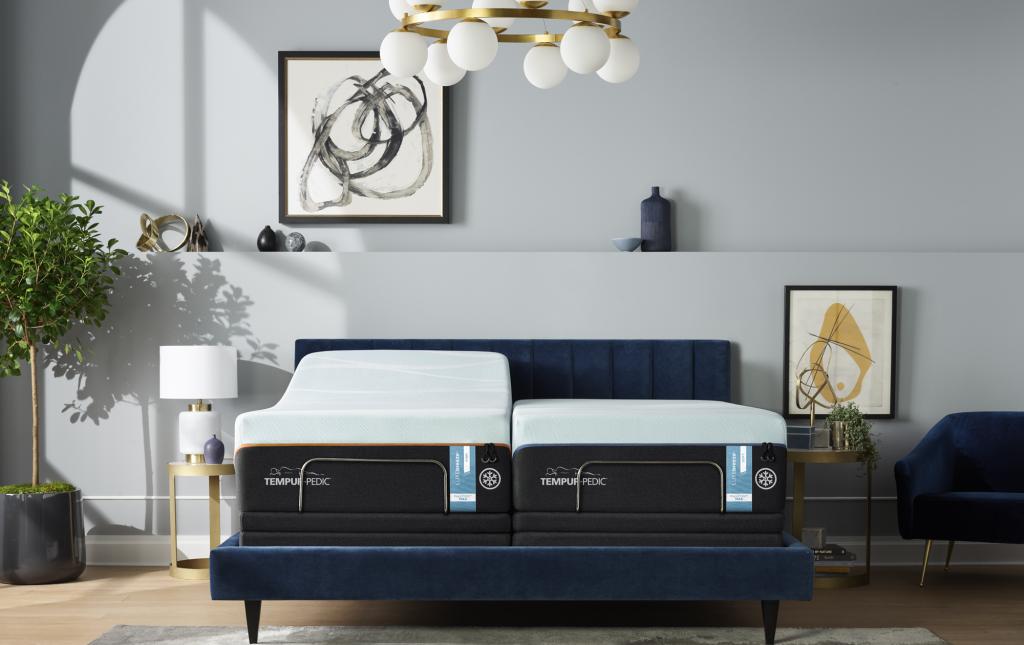 NEXT-LEVEL, ALL-NIGHT COOLING MEETS MAXIMUM PRESSURE RELIEF.
The all-new TEMPUR-LUXEbreeze™ feels 8 degrees cooler throughout the night while delivering maximum pressure relieving power – so you'll sleep deeper, cooler, longer.* *Based on average heat index of TEMPUR-LUXEbreeze™ compared to TEMPUR-ProAdapt™ models measured over 8-hour period.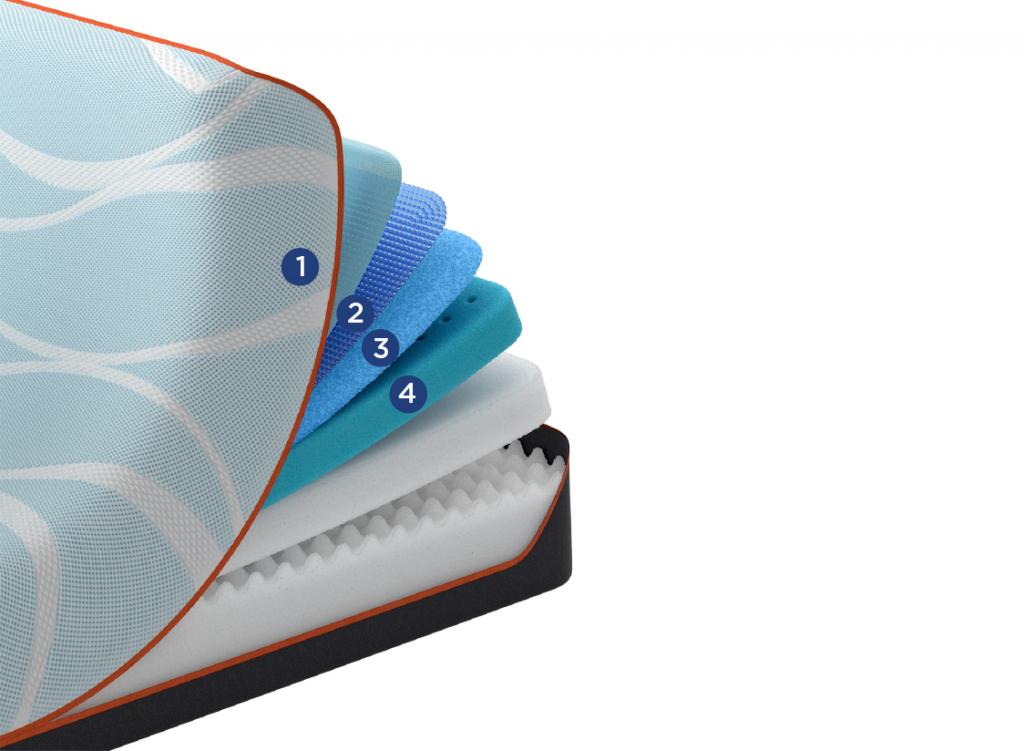 LAYERS OF COOLING COMFORT
1. SMARTCLIMATE® DUAL COVER SYSTEM A zip-off, cool-to-touch cover helps you feel cooler when you lie down. 2. PURECOOL+™ PHASE CHANGE MATERIAL Exclusive. next-generation technology absorbs heat so you can feel cooler while you fall asleep. 3. TEMPUR-CM+™ MATERIAL Advanced TEMPUR Material redesigned with maximum airflow for all night cooling comfort. 4. VENTILATED TEMPUR-APR® MATERIAL Our most pressure-relieving material ever – now with an all-new ultra breathable design.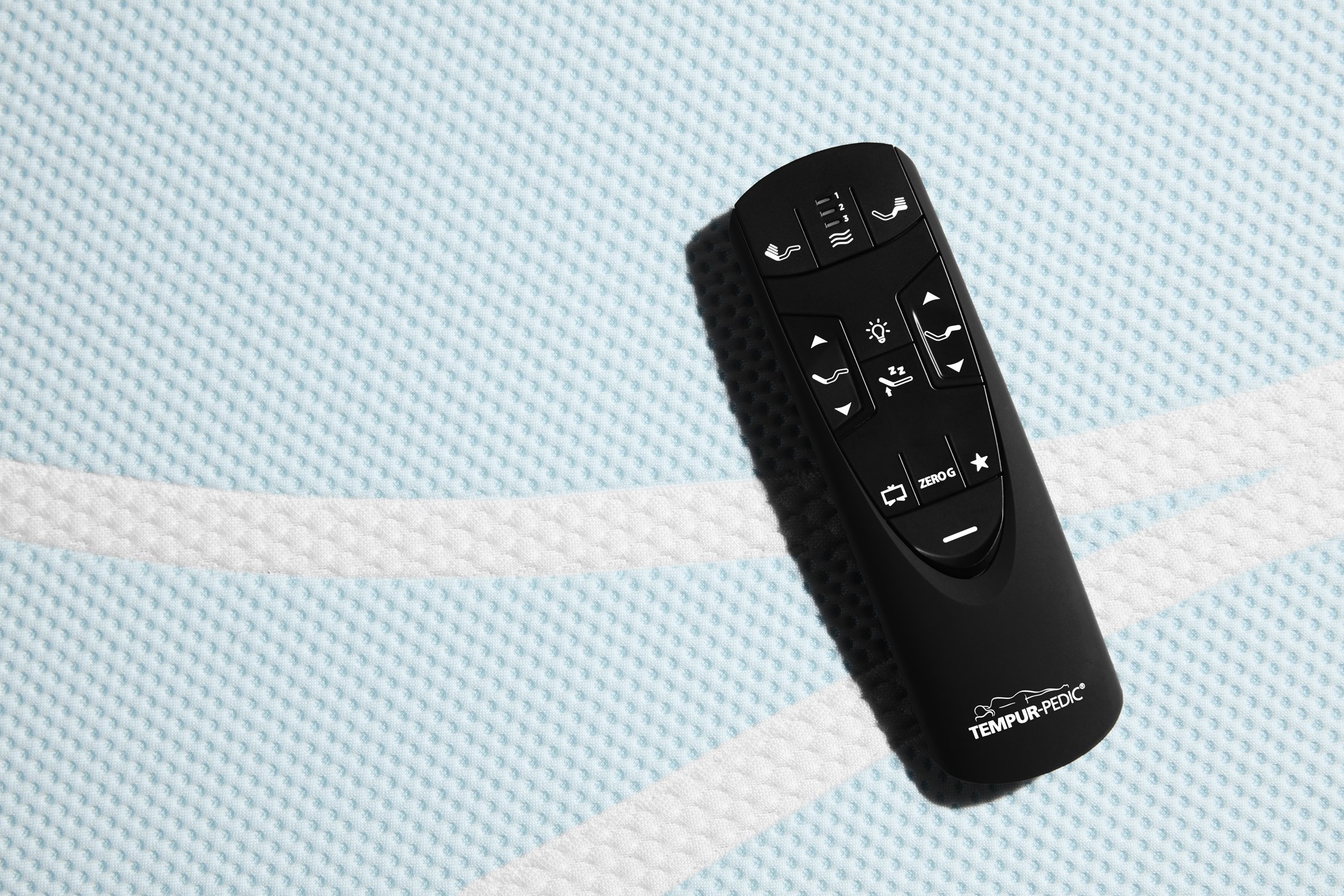 RAISE YOUR SLEEP STANDARDS
Our mattresses are superior. Our adjustable bases are no different. When you upgrade to a Tempur-Pedic® power base, you receive a variety of benefits including virtually infinite ergonomic positions, full-body pressure relief, customized sleep positions and a solution for sleep partners that snore.

How Does the TEMPUR-LUXEbreeze™ FIRM Feel?
This is a Firm mattress — which is our most popular comfort level for back and stomach sleeping positions. Designed to provide the perfect balance between contouring comfort and pushback support. It's great for people with lower back pain.
Frequently Asked Questions
HOW HAS TEMPUR-CLIMATE® MATERIAL EVOLVED?
TCM VS. TEMPUR-CM+™ Tempur-Pedic engineers are continuously improving our technologies to deliver industry-leading cooling solutions. With the reinvention of TEMPUR-breeze®, we optimized the cooling material in our TEMPUR® Toolbox. The result was all-new TEMPUR-CM+™ which: Has an optimized feel so it can be placed in the comfort layer, meaning the consumer can more fully feel its cooling power. Has an optimized cellular structure which provides more airflow and breathability than our previous technology. Is directly infused with PureCool+™ Phase Change Material. The open cell structure of TEMPUR-CM+ gives the PureCool+ more surface area to adhere to, further improving cooling performance compared to our previous technology.
Customer Reviews
Erin Davidson
We are so happy with the customer service and quality of selection here! Teresa was very welcoming and answered all of our MANY questions. She gave us genuine advice and spent quality time helping us make the best decision. We are sleeping better than ever. Delivery was easy and prompt
Ginger Vieira
I'll never buy a bed anywhere else! Affordable, friendly, and SO easy to work with! I've purchased maybe 5 mattresses now from these folks. The owner is often standing right there at the desk. They delivery, set-up your frame, etc. So wonderful and personable and real. No nonsense. How a VT-owned business should be.
Carla Cyr
The mattress set I bought has been amazing , love it so much, went back and bought a bureau ThAt is Amish made it is so beautiful. I am buying a matching bed frame now. I also bought a mattress cover , it was easy to but on and works so well!! Thank you Sean and Theresa!!!
James D.
This store is run by a young husband and wife with a 3 1/2 yr old kid who plays quietly behind the counter. When I entered, they greeted me but didn't bum-rush me, which would have been annoying. Once I approached them, they were helpful, knowledgeable, and was able to get me exactly what I wanted and then through in a small discount.
Chris Leach
Just got our bed from Vermont Mattress Depot yesterday. I had the mattress delivered the very next day! They were courteous from beginning to end. The delivery guys were super friendly and careful. We have a tiny upstairs apartment and they were able to navigate our narrow hallways with ease! Speaking from experience, in all my 36 revolutions around the earth, this has been by far the best night sleep.