Svago Lite Zero Gravity Recliner
Regular price
$1,699.98
Sale price
$1,299.99
Unit price
per
Sale
Sold out
Description
Our entry-level zero gravity recliner has all of the benefits of zero gravity, with synthetic hyde, hand-carved wood base, lumbar vibration massage and heat, relaxation, self-care, quicker recovery, and back health are here.
TECHNICAL SPECIFICATIONS
Material and Construction
Steel Frame
PU Foam
Synthetic Hyde
Solid Wood Base
Measurements & Dimensions
Upright Dimension (L x W x H): 41.3" x 29.1" x 46.1"
Reclined Dimension (L x W x H): 63" x 29.1" x 33.5"
Seat Width: 21"
Net Weight: 94lbs
Weight Capacity: 275lbs
Power and Safety
Power Voltage: 120v
Rated Frequency: 60Hz
Power Supply Wiring Length: 9'
Environmental Temperature: 50°F – 104°F
Storage Temperature: 68°F – 131°F
Shipping
Packaging & Box
Dimensions (L x W x H): 41" x 30" x 26"
Gross Weight: 116lbs
Warranty
1 Year In-Home Service
2 Year Parts
Extended Warranty Upgrade - Additional 2 Year In-Home Service
Extended Warranty Upgrade - Additional 1 Year Parts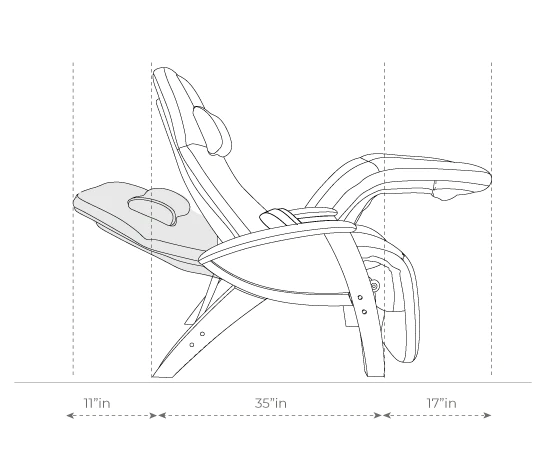 IN-HOME DELIVERY & ASSEMBLY SERVICE
Get ready to kick back and relax when you select In-Home Delivery! Our team will set up and place your new Svago wherever you like, and then make sure all is well before clearing out the trash (if you wish).
Upright
(L x W x H):
41.3" x 29.1" x 46.1"
Reclined
(L x W x H):
63" x 29.1" x 33.5"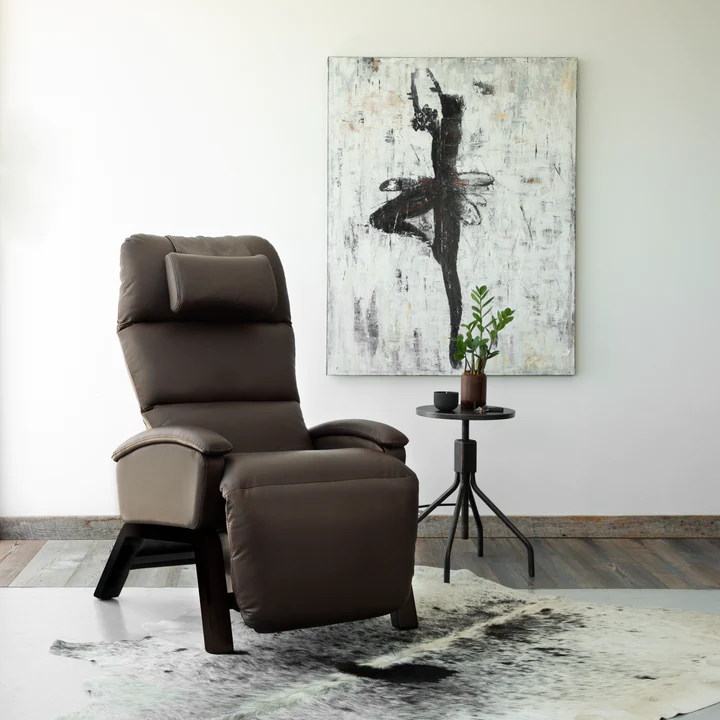 INTRODUCTION TO ZERO GRAVITY RELAXATION
Svago Zero Gravity Recliners are the most advanced in the business. Crafted from the finest and most durable materials, these chairs will stand the test of time. The zero gravity highlight feature of the Svago loungers will rejuvenate your back and transform your life.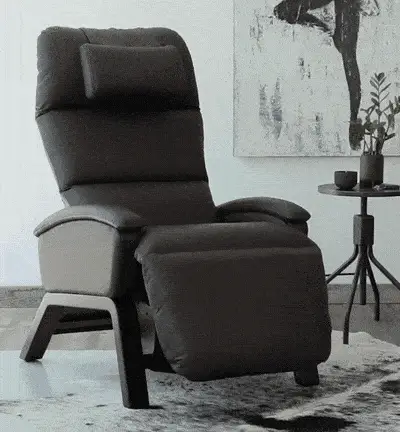 One Button to Bliss
Life is complicated enough, so relaxing should be simple. With The Lite's powerful technology, you only need to press one button to drift off into horizontal heaven. Set up your preferences once and then never worry again with our manually adjustable pillow, pre-set footrest and elongated armrests.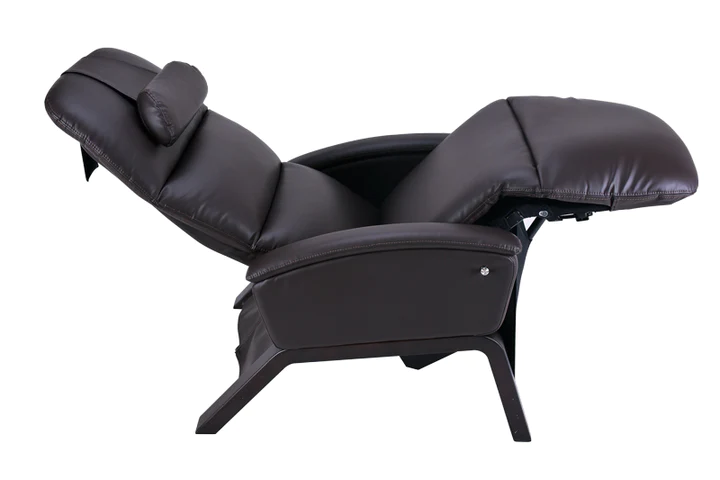 Massage the Way You Want it
We don't settle for just a neck and shoulder rub. With our intelligent vibrational technology, you'll get a full back massage with heat therapy in the lumbar spinal area. Allowing the muscles to relax and the vertebrae to fall back into place, you'll get deep into healing and relaxation within a matter of minutes.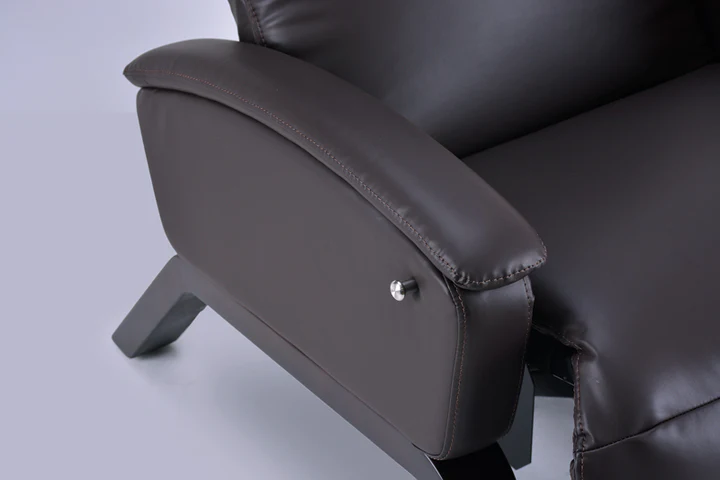 Arm Rests that Let Your Arms Rest
Ever noticed how in many recliners, you have to do a massive, awkward and uncomfortable readjustment of your arms when you put the recliner back? We made sure to pay special attention to the armrests, since we know they help align and support your body in a way that allows maximum decompression of the spine; a feature especially crucial for acute back pain.
Crafted with Style
Our synthetic hyde and hand-carved wood base adds elegance and style to your home. The durability and superb craftsmanship allows you and your family to enjoy the chair for years to come -- and even continuing on for the next generation.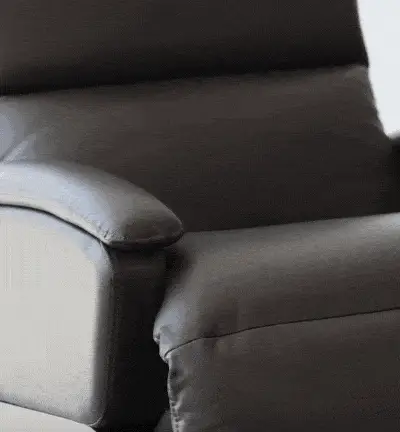 Heat Where it Counts
The lumbar spine is the most receptive part that benefits from heat and vibration. The Lite specifically focuses on this area; the heat helps dilate blood vessels, increasing oxygen flow and nutrients to tissues. The vibrations help to contract and relax muscles, loosening knots and tension. This relieves pain, gives the heart a rest, and creates overall muscle relaxation and healing.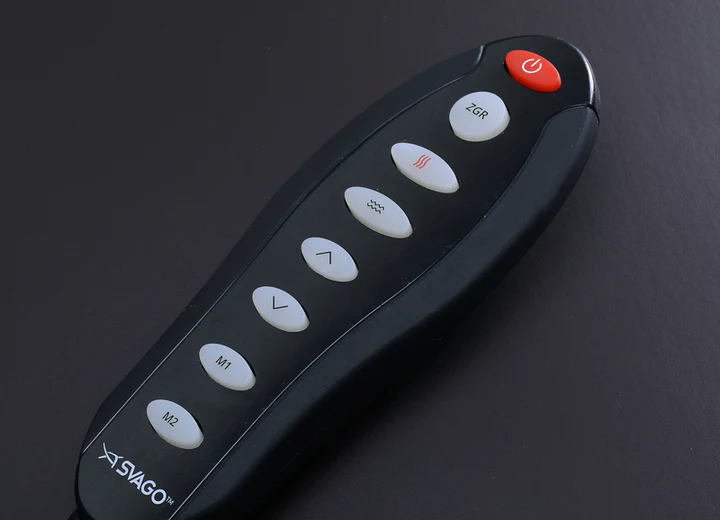 No Need to Talk
You're fully in control of your comfort with our easy-to-navigate, fully-featured, hand-held remote. We made it easy to use, so you won't have to get up, talk, or be interrupted in any way during your massage.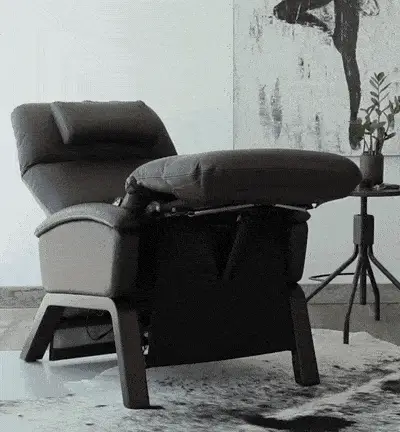 A Graceful Exit
Your exit should be as seamless as your entry. When it's time to get up, we made it easy. Our one-touch power off button takes you from horizontal to upright in a snap. Ne need to return yourself up right before powering off — we take care of that.
Customer Reviews
Erin Davidson
We are so happy with the customer service and quality of selection here! Teresa was very welcoming and answered all of our MANY questions. She gave us genuine advice and spent quality time helping us make the best decision. We are sleeping better than ever. Delivery was easy and prompt
Ginger Vieira
I'll never buy a bed anywhere else! Affordable, friendly, and SO easy to work with! I've purchased maybe 5 mattresses now from these folks. The owner is often standing right there at the desk. They delivery, set-up your frame, etc. So wonderful and personable and real. No nonsense. How a VT-owned business should be.
Carla Cyr
The mattress set I bought has been amazing , love it so much, went back and bought a bureau ThAt is Amish made it is so beautiful. I am buying a matching bed frame now. I also bought a mattress cover , it was easy to but on and works so well!! Thank you Sean and Theresa!!!
James D.
This store is run by a young husband and wife with a 3 1/2 yr old kid who plays quietly behind the counter. When I entered, they greeted me but didn't bum-rush me, which would have been annoying. Once I approached them, they were helpful, knowledgeable, and was able to get me exactly what I wanted and then through in a small discount.
Chris Leach
Just got our bed from Vermont Mattress Depot yesterday. I had the mattress delivered the very next day! They were courteous from beginning to end. The delivery guys were super friendly and careful. We have a tiny upstairs apartment and they were able to navigate our narrow hallways with ease! Speaking from experience, in all my 36 revolutions around the earth, this has been by far the best night sleep.