Serta Arctic Plush All Foam 15x better cooling power Mattress
Regular price
Sale price
$2,999.00
Unit price
per
Sale
Sold out
Description
Serta Arctic Plush All Foam 15x better cooling power Mattress 
Description
Every model of the all-new Arctic mattress features the exclusive Reactex® System, which was designed to be the most heat-absorbing layer we've ever created. The result? Cool, comfortable sleep all night long. With four distinct models, you can now access the cool, custom sleep support that perfectly fits your preferences and needs. 
*15x benefit exists while the phase change material is active. Results based on the difference in heat absorbed by Serta Arctic and Serta Perfect Sleeper Luminous Sleep mattresses while the phase change material is active.
Details
Layers
Reactex® System
CustomFit™ HD Memory Foam
EverCool® Fuze Gel Memory Foam
Serta® Foam Core
SPECIFICATIONS
Mattress Height: 13.5"
Reactex® System
CustomFit™ HD Memory Foam
EverCool® Fuze Gel Memory Foam
Serta® Balanced Support Foam
Serta® Foam Core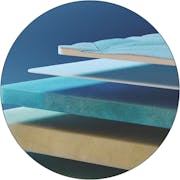 Reactex® System
Serta's exclusive Reactex® System consists of three layers of cooling technology. Each cooling layer has more cooling capacity than the previous layer, so heat is pulled away from your body and deeper into the mattress. The result is cool, comfortable sleep all night long.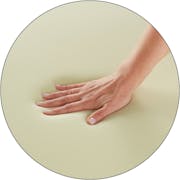 CustomFit™ HD Memory Foam
Premium, high-density memory foam conforms to your body for comfortable support all night long.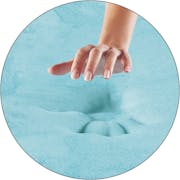 Deep Reaction® Max Gel Memory Foam
This highly dense memory foam has both cushioning and confirming qualities for comfortable deep-down support.

*Only available in Arctic Premier Hybrid model.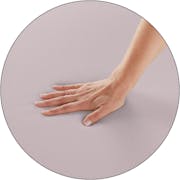 Peak Support™ Ultra HD Memory Foam
Premium, ultra-high-density memory foam provides steady support, so you don't sink too far into your mattress.

*Only available in Arctic Premier Foam model.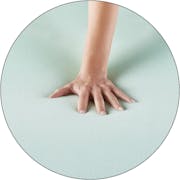 Serta® Balanced Support Foam
Balanced Support Foam is used to strike the ideal balance of cushioning and support, no matter how firm or plush you prefer your mattress.

*Only available in select models.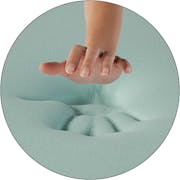 EverCool® Fuze Gel Memory Foam
A fusion of cooling gel and premium memory foam, this comfort-inducing combination cradles you and helps cool you in a substantial, pressure-relieving embrace.

*Only available in Arctic Plush Foam and Arctic Medium Hybrid models.
CARE
We suggest applying baking soda to the soiled area, let stand about 15 minutes, vacuum and repeat as needed. Air the product out as much as possible.
We do not recommend applying liquids to the product. Applying liquids may stain the fabric and make the soiled area worse. Moisture or chemicals applied directly to the mattress can cause premature breakdown of the foam and damage the product.
In order to protect your mattress from stains and spills, we highly recommend using a mattress protector. This will also help with the overall health and lifespan of your mattress.
Quality
Comfort is something that should endure day after day. And we know a thing or two about lasting quality! Serta has blazed the trail in comfort since we introduced our first Perfect Sleeper® mattress in 1931.
We build Serta mattresses with the highest quality materials to give you years of outstanding comfort and support. All Serta mattresses are designed and assembled in the USA, leveraging Serta's 85 years of manufacturing expertise.
Serta Arctic Plush All Foam 15x better cooling power Mattress 
Customer Reviews
Erin Davidson
We are so happy with the customer service and quality of selection here! Teresa was very welcoming and answered all of our MANY questions. She gave us genuine advice and spent quality time helping us make the best decision. We are sleeping better than ever. Delivery was easy and prompt
Ginger Vieira
I'll never buy a bed anywhere else! Affordable, friendly, and SO easy to work with! I've purchased maybe 5 mattresses now from these folks. The owner is often standing right there at the desk. They delivery, set-up your frame, etc. So wonderful and personable and real. No nonsense. How a VT-owned business should be.
Carla Cyr
The mattress set I bought has been amazing , love it so much, went back and bought a bureau ThAt is Amish made it is so beautiful. I am buying a matching bed frame now. I also bought a mattress cover , it was easy to but on and works so well!! Thank you Sean and Theresa!!!
James D.
This store is run by a young husband and wife with a 3 1/2 yr old kid who plays quietly behind the counter. When I entered, they greeted me but didn't bum-rush me, which would have been annoying. Once I approached them, they were helpful, knowledgeable, and was able to get me exactly what I wanted and then through in a small discount.
Chris Leach
Just got our bed from Vermont Mattress Depot yesterday. I had the mattress delivered the very next day! They were courteous from beginning to end. The delivery guys were super friendly and careful. We have a tiny upstairs apartment and they were able to navigate our narrow hallways with ease! Speaking from experience, in all my 36 revolutions around the earth, this has been by far the best night sleep.