Invigor 13" Performance Hybrid Mattress
Regular price
Sale price
$1,250.00
Unit price
per
Sale
Sold out
Description
Far Infrared Rays (FIR) technology in the performance cover of the Invigor contributes to an active recovery process—harnessing what you produce (body heat) and recycling it into what you can use (energy) to rejuvenate. Combined with the patented advanced cooling of TitanCool™, the Invigor offers extreme rejuvenation with all the benefits of an elite hybrid mattress.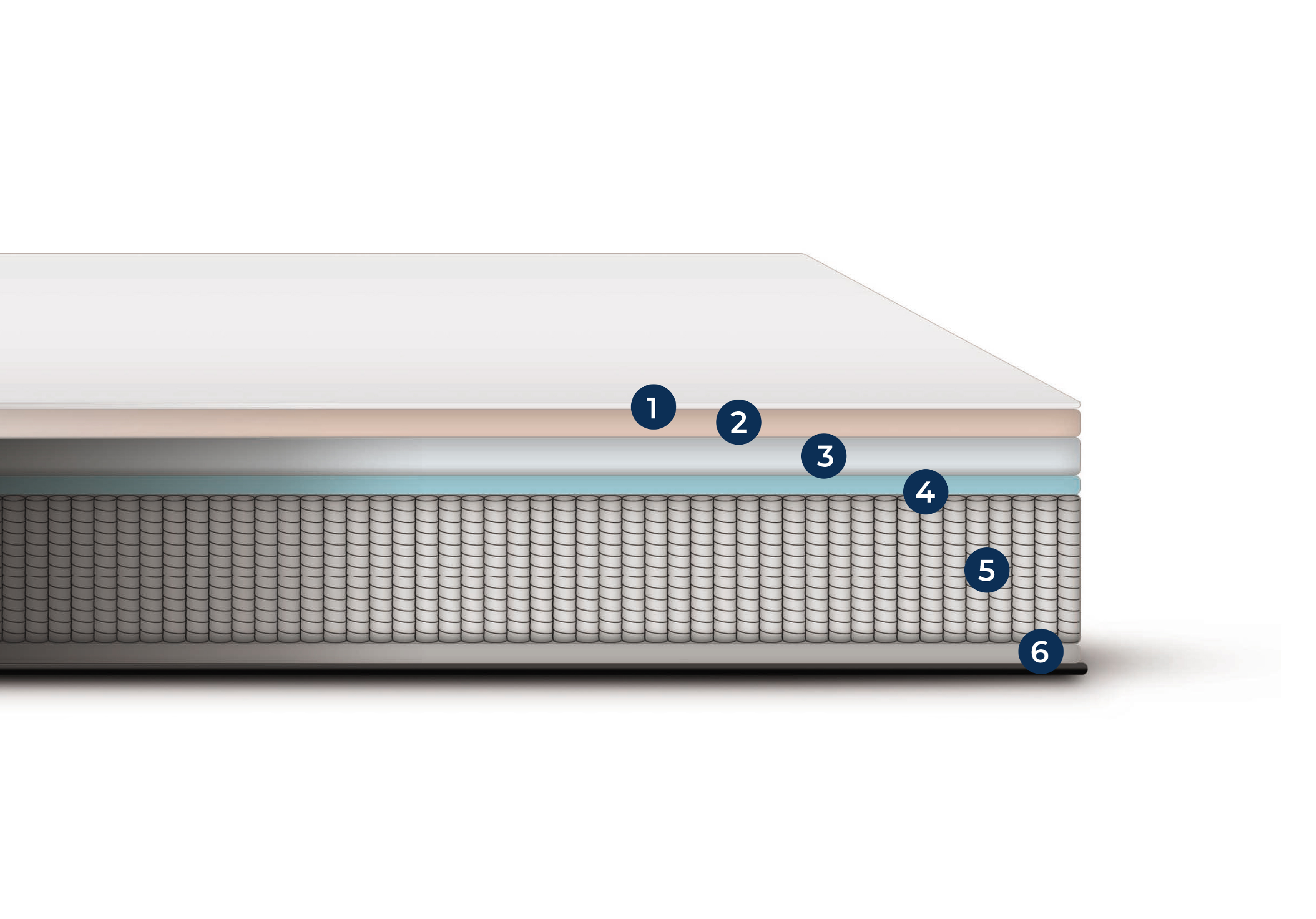 SMARTFABRIC PERFORMANCE COVER
An elite performance top utilizes Far Inf rared Rays technology to transform your body's heat into waves of energy—reflected back to you through the medium of f ibers, helping to enhance faster recover and promote quality of sleep.
1 . 5 " COPPERFLEX ™ WITH TITANCOOL™
A layer of patented Copperflex™ is paired with TitanCool™, a water-based surface infusion with high conductivity properties that draw excess heat away f rom the body, maintaining optimal comfort for each individual sleeper. An added infusion of copper helps promote an antibacterial sleeping environment.
2" TITANFLEX™
A layer of Titanflex™ offers a second layer of cloud-like comfort, featuring immediate response technology that adjusts to your body each time you move.
1 " GELSWIRL MEMORY FOAM
A third layer of 1" gel swirl memory foam ensures added pressure point relief.
8" ASCENSION X™ ENCASEDCOILS
An engineered layer, consisting of individually encased coils, allows for better reactivity and motion isolation, minimizing sleep disturbance.
. 7 5 " BASEFOAM
A .75" high-density foam base adds durability to the mattress while reinforcing individually encased coils as they compress
Customer Reviews
Erin Davidson
We are so happy with the customer service and quality of selection here! Teresa was very welcoming and answered all of our MANY questions. She gave us genuine advice and spent quality time helping us make the best decision. We are sleeping better than ever. Delivery was easy and prompt
Ginger Vieira
I'll never buy a bed anywhere else! Affordable, friendly, and SO easy to work with! I've purchased maybe 5 mattresses now from these folks. The owner is often standing right there at the desk. They delivery, set-up your frame, etc. So wonderful and personable and real. No nonsense. How a VT-owned business should be.
Carla Cyr
The mattress set I bought has been amazing , love it so much, went back and bought a bureau ThAt is Amish made it is so beautiful. I am buying a matching bed frame now. I also bought a mattress cover , it was easy to but on and works so well!! Thank you Sean and Theresa!!!
James D.
This store is run by a young husband and wife with a 3 1/2 yr old kid who plays quietly behind the counter. When I entered, they greeted me but didn't bum-rush me, which would have been annoying. Once I approached them, they were helpful, knowledgeable, and was able to get me exactly what I wanted and then through in a small discount.
Chris Leach
Just got our bed from Vermont Mattress Depot yesterday. I had the mattress delivered the very next day! They were courteous from beginning to end. The delivery guys were super friendly and careful. We have a tiny upstairs apartment and they were able to navigate our narrow hallways with ease! Speaking from experience, in all my 36 revolutions around the earth, this has been by far the best night sleep.